1 minute reading time
(157 words)
The Dahlonega Chamber and CVB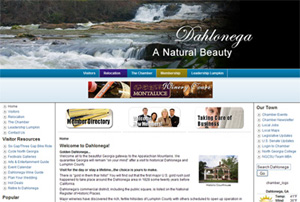 The Dahlonega Chamber of Commerce and Convention and Visitors Bureau was one of the first Joomla sites we launched. By implementing Joomla and providing several training classes, the Chamber staff had the ability to update content, images, and menus on their site.
After some time, however, the site began to lose its original charm, as more menus began to appear, and the real focus of the site became blurry. Additionally, the bounce rate, was creeping up, which is one of our indicators of attractiveness of the site.
With collaborative planning and the application of standards, the result: two separate sites to meet the needs of two separate organizations. Visitors can now easily find what they need, and Chamber members what they need. Even better, we took this opportunity to create a warmer interface and implement some new tools, like calendaring and online event registration.
See The CVB site -
www.Dahlonega.org
See The Chamber site -
TheChamber.Dahlonega.org
Related Posts