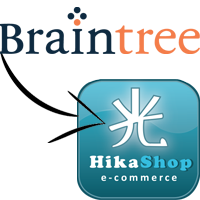 The Braintree Payment Gateway for HikaShop is the answer to the abandoned cart epidemic caused by Paypal and other payment gateways that redirect customers off-site!
With the Braintree Payment Plugin for HikaShop your customers never leave your website! The Braintree Credit Card Form is seamlessly integrated into your own website during HikaShop's checkout process. Our own clients who use our plugin have reported an immediate increase in sales because the checkout process is now much more user-friendly and their customers are not redirected off-site (results vary).
Braintree encrypts the full payment process between the customer's browser and the Braintree server so
sensitive credit card information never touches your website, greatly simplifying PCI compliance. The new Vault feature also stores the credit card information securely with Braintree only.


Features:
-- Works with Braintree Sandbox and Production servers
-- Requires use of HikaShop native checkout
-- 156+ Braintree supported currencies
-- Add multiple instances for each of your merchant IDs
-- Option to "settle" or "authorize" payments
-- Option to request CVV code
-- Option to allow customers to store their credit card in the Braintree Vault for one-click payments during future purchases
-- Works with Hikashop ajax checkout to collect the credit card details before checkout "finish"
-- Successful payment automatically updates order status
-- Customize payment statuses
-- Easy to modify language override for "success" response
-- Tested with HikaShop 4.3.0 as of October 2020
Usage:

-- Works with HikaShop Starter, Essential or Business
-- Works with all modern, javascript-enabled web browsers
-- GPL v2
-- Install on Unlimited domains
-- Continue using plugin after your subscription expires
-- Free updates during the subscription period
-- Free 24/7 access to Support Knowledge Base
-- Free Braintree plugin support for UNLIMITED DOMAINS during the subscription period
(pro version)
What is HikaShop?
HikaShop is an e-commerce solution for Joomla built for simplicity and flexibility! We've tested and used MANY eCommerce extensions for Joomla and HikaShop is simply the best!
Customers purchase your products efficiently, easy store management, increase your sales thanks to built-in marketing tools and much more. HikaShop is also quick and easy to configure!
Get HikaShop

What is Braintree?
Braintree is a full-stack payments platform that makes it easy to accept payments in your app or website. Braintree is quickly rising to prominence in the payment gateway industry due to their instant sign-up, superb customer service, fast payouts, and did we mention...
The Braintree plugin can accept most credit and debit cards, including Visa, MasterCard, American Express, Discover, JCB and Diner's Club. Braintree is available for merchants in the United States, Canada, Australia, and Europe. Merchants can accept payments in over 130 currencies.**
** For full details on the types of payments accepted, geographic availability and currencies please refer to Braintree's website.