Top of Mind from 3by400
Our blog posts are the result of issues and opportunities we see in our daily work. They are designed to increase understanding and provide a source of vision for your web presence.
1 minute reading time
(196 words)
Bear on the Square Mountain Festival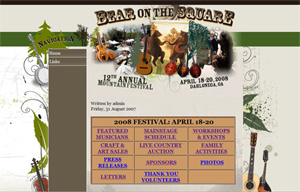 The Bear on the Square Executive Committee liked their old site. Only problem was that they had a difficult time getting the site updated and making it really look the way the festival feels to performers and attendees. Although the site was appealing, it was difficult for the Communications Committee to keep updated on a regular basis and maintain the styling so the site could remain professional. In addition to the update issues, the site just wasn't as hip as the event.
As the new official web sponsor for Bear on the Square Mountain Festival, 3by400 spent significant time determining what would ultimately be t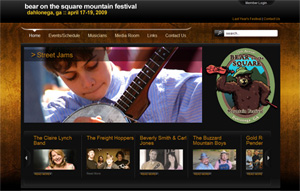 he cool, new skin of the new site. In addition, the entire Communications Committee was trained on updating the tool using global CSS so individual content styling was eliminated.
Additionally, 3by400 has provided tools that truly showcase musicians through images and a media players so future audiences can get the true feel of the event. A colorful flash gallery on the home page helps relate the experience. The latest update, a calendar, simplifies the process of publishing the ever-growing calendar of events.
See The Bear on the Square site - www.BearOnTheSquare.org