Top of Mind from 3by400
Our blog posts are the result of issues and opportunities we see in our daily work. They are designed to increase understanding and provide a source of vision for your web presence.
2 minutes reading time
(454 words)
When Is the Right Time to Redesign Your Site?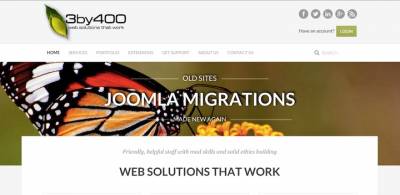 It just so happens that we have been working on our own new site for the past several months---well, okay, for the past 6 months---cobbler's children and all. This situation put me on the track of considering the really critical factors about a site redesign as they have pertained to us...
TECHNOLOGY
Our redesign originated because of the need for a technology refresh, which is why I list it first. Our previous site was Joomla 2.5, and
Joomla 3
has now been out for 1.5 years. Plus, we have been delivering Joomla 3 upgrades and new sites to our clients and just weren't walking our talk.
Further, one of our driving forces for a redesign (rather than just an upgrade), was to implement a
responsive
presentation of our site--you know, where it views appealingly and in a useable fashion to viewers on any device, from a mobile phone to a 70" display. Not only is this a kindness for our viewers and key to eCommerce, but Google has recently started analysis of mobile-friendly sites.
Additionally, we have not been able to use some incredibly useful tools on our current site because the platform simply didn't support it. New tools don't typically fit with old technology because the best developers are always looking forward, not backward.
BRAND SUPPORT
Our company has really morphed in the last 2 years. We have grown significantly and the size of our client organizations has grown as well. We have had considerable feedback on what makes our team desirable, and our old site just did not accurately depict those characteristics. It simply no longer "felt" like our team!
The previous site also lacked the professional presentation that we seek to represent us in today's marketplace...and we SELL website design. How crazy is that?!
PRODUCT SUPPORT
We have recently created several new development products--a significantly updated
MailChimp Module2
and a brand new
BrainTree Payment Plug-in for HikaShop
--and really had no way to eek out sufficient room to establish them in the past environment. Those products account for about 30% of our activity, so they are really important to our business and should be presented as such on our site.
We would have had a major reorganization on our hands to fit these new products onto our old site, which was developed at a time when we really only offered one product. So, rather than putting that time into something that may not have been completely broken, we preferred to spend the time on a fix.
RESULT
We have definitely fulfilled our first and third goals, and I'll let you be the judge of whether we are accomplishing the rest.
Log in to provide your feedback. We would love to hear it!