Top of Mind from 3by400
Our blog posts are the result of issues and opportunities we see in our daily work. They are designed to increase understanding and provide a source of vision for your web presence.
6 minutes reading time
(1168 words)
Technology for Seniors
Many of the elders I know are not like my mom, who can e-mail, use most of the features on her cell phone, and spends time on the Internet every day—she can even handle a conference call on her phone—go, Mom! However, many seniors automatically get a glaze over their eyes at the mention of technology, especially those who were firmly implanted in a career before personal computers came onto the scene in the eighties. Don't get me wrong…there are many out there like my mom who embrace it all. This month's column is all about technology being marketed to seniors. Although these products are marketed to seniors, they can be of benefit to everyone, so whether you're a golden-age techno geek or not, read on!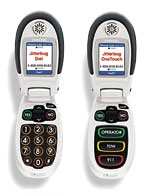 Cell Phones – Jitterbug
With a catchy jingle, Jitterbug is all about keeping it simple. These easy-to-operate cell phones minimize menus and buttons to simplify cell phone usage. These phones offer a larger text size on the screen, which I would sure appreciate myself. They also include extra padding on the earpiece, although the service doesn't encourage long conversations.
One of the phone styles includes only three buttons from which to choose: operator, tow, and 911. No menus to fumble through and no icons. Having operator assistance to manage the contact list is an important feature for those who find typical cell phone menus confusing. The phones themselves cost less than $150.00 (no free phones with these packages) and 120 minutes a month runs about $30.00. What you get for that service, though, includes operator-assisted dialing for numbers in your phone book, and help whe you need it. There is also a one-time setup charge of $35.00. See www.jitterbug.com for more information.

Location Service - Project Lifesaver
This non-profit in Chesapeake, Virginia, is an innovative rapid response program aiding victims and families suffering from Alzheimer's disease and related disorders such as Down syndrome and autism. Project Lifesaver relies on radio technology and a specially trained search-andrescue team. Clients enrolled in the Project Lifesaver program wear a personalized wristband that emits a tracking signal. When caregivers notify the local Project Lifesaver agency that the person is missing, a search-and-rescue team responds to the wanderer's area and starts searching with the mobile locater tracking system. For more information, see www.projectlifesaver.org.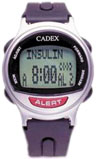 Medication Reminder
The e-pill CADEX watch has up to twelve daily alarms (medication reminders). The alarms auto-repeat every day, with no reset required. At the scheduled time, the alarm will sound and display the name of the medication to be taken. A medical "snooze" feature allows you to turn off the initial beeping and continue to be reminded with a subtle double beep every three minutes until you have taken your medications or performed a task. See www. cadexproducts.com/product.html for more on the e-pill Cadex watch, which retails for about $75.00 online. Med-Time XL is a device for dispensing medicine, reminding the user when medicine should be taken, and making the correct dose available. An alarm sounds and pills rotate into position. Lift up the device and turn the dispenser upside down to allow the pills to fall into your hand. All other medicine is inaccessible. Alarm stops by turning device upside down (or after 60 minutes). The Med-Time XL is ideal for anyone on a complex medication schedule or for those who have difficulty with manual dexterity. This same company also offers a version that is monitored. Sells for about $260.00 online. For more information, see www.epill.com/medtime.html.
AEDs (Automated External Defi brillator)
These portable electronic devices diagnose and treat cardiac arrest. Very much like those wired-up paddles you see in the emergency room with the nurse calling "Clear," an onsite AED can truly be a lifesaver. This is particularly true if someone in your home has a track record of heart disease or if you are in a somewhat remote area. Many of them provide audio instruction once the device has been activated. AEDs start at about $1,000.00 and go up, depending upon brand and accessories. Check out www.cprflorida.net/aedform.html for a great listing of the major brands, comparisons, and additional information.

Blood Pressure
If you are currently being treated for high blood pressure, a home-based monitor can provide early warning of trouble. Although most people can tell when their blood pressure is increasing—my husband says he gets an intense throbbing in the back of his head; my sister gets light-headed and flushed—monitors take all of the guesswork out of whether your current activity is too intense or your stress level is too high. Most importantly, if you feel the signs of high blood pressure, checking at home can separate the false alarms from times when you should seek medial attention. My husband selected the Omron HEM-650, which clasps to your wrist and requires you to be completely still for about 30 seconds. We sometimes have trouble getting into a position where it can properly detect our heartbeat, but rest assured, we always manage to find it in the end. For a selection of heart monitors, see www.semedicalsupply.com/blood_ pressure.htm.
Insulin Monitors and Pumps
Diabetes can strike anyone, but as we age, our risks of developing diabetes become greater—it seems to be the price we pay for depriving our body of the diet and nutrition it requires over time. Insulin pumps are now providing diabetics with a viable method of long-term treatment. The MiniMed Paradigm REAL-Time System is made up of two components, a real-time continuous glucose monitoring (CGM) system, and an insulin pump. The real-time CGM System relays glucose readings every five minutes from a glucose sensor to the insulin pump, which displays to 288 readings a day—nearly 100 times more information than three daily fingersticks. Real-time glucose information displayed on the insulin pump allows patients to take immediate action to improve their glucose control after taking a confirmatory fingerstick. The real-time CGM System component is indicated for any patient 18 years of age or older, and insulin pump therapy for all patients requiring insulin. One review reported that these devices seem a bit cumbersome (both attach to the belly of the diabetic), but that the benefits far outweigh that aspect of the products. If you would like more information about these products, see www. minimed.com/products/insulinpumps. Although technology can seem daunting, it can also improve the adopter's quality of life.
And remember, I'm a technologist, so be sure to ask your doctor if the medical-related items in this article are a good solution for you.
This article used with permission from 400 Edition, Inc. It is unlawful to use this article or any portion of it without the expressed permission of its author. This email address is being protected from spambots. You need JavaScript enabled to view it.